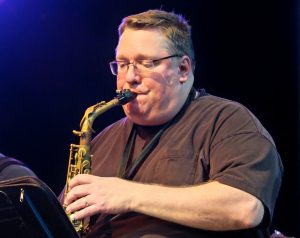 Marty Bell
Alto Saxophone and Tenor Saxophone
Alto saxophonist, Marty Bell, brings a varied musical resume to the AUGUST horn section. Beginning his musical journey on trombone at age 7 with tutelage from his father, he eventually changed to the alto and tenor sax where his instruction continued by his various elementary and secondary school teachers in band and jazz. However, his first performance was in 5th grade on the trombone.
In high school he played in the pep, jazz, concert and marching bands and continued with the jazz bands at both College of DuPage and Benedictine University, where he held the lead tenor sax chair.
Following college, Marty played in many rock, R&B and big bands, playing either lead alto or lead tenor. He led his own band, Maison Blue, from 1986 to 1994. The band played an eclectic mix of jazz, blues, New Orleans R&B and Zydeco, which is a conglomeration of southern bayou-flavored music.
Marty performed in Switzerland with the Ichiban Records Jazz/Blues Tour in 1994. From 1994 to 2004 he worked with the band, Mud Bugs, performing New Orleans R&B funk and Zydeco as they played throughout the Midwest at various summer shows and festivals, notably Taste of Chicago and Milwaukee's Summerfest. He continues to hold the lead alto chair with the Moonlighters Big Band.
As a composer and arranger, Marty boasts numerous arrangements for big band, combo and R&B bands. He has composed and recorded several R&B songs such as "Don't Know Why", "Funkey Boutte", "Party Pole" and "Southside" and Zydeco songs such as "Goin' Down To Louisiana", "Hot or Not", "Let's Dance" and more.
Marty's recorded and produced two CD's under his own company, Smokehouse Productions, and recorded with Peter Trout in New Orleans (Boiler Room Studios), in addition to other studio work.
Influenced by the likes of Clarence Clemons, AC Reed, Art Pepper, Zoot Simms, Dr. John, Neville Bros., and Beau Jocque, Marty's varied interests and styles bring a new dimension to the AUGUST horn line.
---
Gary King
Trombone / Bass Trombone
Trombonist Gary King began his music life at the age of 10, when he was introduced to the alto sax by his father, who happened to be the band director of the school district where he attended. He switched to trombone approximately a month later when two things happened…#1-he asked to change to trombone, and ; #2-his band director father needed more trombones in the school band. He began serious music lessons while in junior and senior high school, studying for 6 years with Johnny Reger, a session/studio musician in the Dayton, Ohio, area
During his school years, he played in the Tippecanoe High School Band in Tipp City, Ohio. In addition to performing with his high school band, he also performed in the NCR (National Cash Register) summer band which was an "all-star" concert band made up of high school students from the Dayton area. During his final summer season he occupied the trombone section's first chair. While in college at the University of Cincinnati he performed with the school's concert band. In 1970, Gary tried assembling a horn band, which never got beyond the rehearsal stage.
After completing his education, he performed in 3 different big bands in the New Jersey area before settling for 4 years with "Vegas East", a regional big band made up of local music union members. During his tenure with the band, they performed at the 1982 Hilton Head Jazz Festival. Gary also can be heard on 2 of the band's self-recorded albums. Locally (Chicago area), he has performed with the Fox Valley Concert Band.
In addition to his "Vegas East" stint, he also has performed with many pit orchestras in New Jersey and Illinois supporting community and School Theater.
Gary brings the musical influences of Chicago's James Pankow, Bill Watrous, Maynard Ferguson, Stan Kenton Band, Jim Pugh, Bill Chase, Don Ellis, the Buddy Rich Big Band, Steve Turre (and those wonderful shells) to name a few.
---
Jim Selig
BARITONE SAXOPHONE AND TENOR SAXOPHONE
Baritone saxophonist, Jim Selig, began playing the alto and tenor sax around the age of 10. He played in various school bands in elementary, junior, and senior high school, where he moved away from the alto sax and redirected his focus to the tenor and baritone sax.
After his school band experiences, he performed a 4-year stint at the Rosemont Theater with Trent Carlini.  His association with Carlini took him to performances in Washington, D.C as well.  Additionally, Jim performed for 8 years with the prestigious Wheaton Municipal Band and the Wheaton Symphony.  He now performs with the Dekalb Municipal Band.  In the pop music world, Jim performed with the band, "Southbound" as well as with the Jason Hubbard band which featured AUGUST lead vocalist Ron Porter.
Jim joined AUGUST midway through 1975 and continued with the band until its "extended break" in 1976; he then continued with some of the AUGUST members in the band, "Liberty Road".  He has performed in numerous bands throughout the Chicagoland area for more years than he would like to remember
Jim's influences are varied and he claims a broad mix of musical formats from classical through jazz, R&B, rock and even country for inspiration.  "There are outstanding players and composers in almost every genre:. Always on the move, he enjoys playing with new and interesting performers because "you never know where your next influence will come".
He returned to AUGUST as a substitute member of the horn section in 2010, performing with the band occasionally on tenor and baritone sax until a spot opened where he became a full-time member playing tenor sax through the fall of 2012 when he chose to pull back to being a sub again due to other commitments.
Fast forward to the fall of 2016 when AUGUST's baritone sax spot opened. Jim was asked to return, which he whole-heartedly accepted.
---
Rick Van Pelt
Trumpet / Fluegelhorn / Vocals
Rick Van Pelt started taking piano lessons from his mother, a piano teacher, at age 5. He was introduced to the cornet at age 10 and graduated to the trumpet by age 14. Throughout his school career he performed with the bands and orchestras offered by the West Aurora (IL) School District as well as Waubonsee Community College, where he played lead trumpet in the jazz band for 4 years. He credits Jim Hatch and Duane Wickeiser for the desire to pursue music. While in college he had opportunities to perform under the direction of Henry Mancini and Francis Acousch. Additionally, while attending a collegiate festival with Waubonsee Communitiy College Jazz Band he received group instruction from famed trumpeter and orchestra leader, Doc Severensin. In the summer of 1970 Rick played under the direction of Dr. Harry Begian, the future Director of Music at the University of Illinois.
He performed with the American Legion Band Post 84 from 1970-75, winning first place in national concert and marching competitions. In addition to the Legion Band, Rick also played with the Aurora(IL) Union Band from1971-74, and the Fox Valley Symphony from 1970-75.
Rick joined AUGUST in June of 1974 as second trumpet. After AUGUST temporarily disbanded in 1976, he continued with the band Liberty Road until 1980. He has also performed in various theatrical pit orchestras throughout the Fox Valley.
He has given private trumpet lessons and since 1994 has been the choir director for Resurrection Lutheran Church.
---
Alex Bacchetti
Trumpet / Flugelhorn
Alex Bacchetti comes to August's horn section with a variety of musical experiences.
He began his musical journey in fourth grade with trumpet lessons. He continued lessons in high school with Vicky Smolik, who is currently performing with the Illinois Symphony.
While in high school, Alex played in the jazz band, marching and concert bands while providing trumpet lessons to beginning trumpet students. He continued at the University of Illinois as a member of their concert band and with the famous "Marching Illini", playing both lead trumpet and flugelhorn.
Alex continued performing throughout central Illinois with numerous groups across a variety of genres ranging from traditional concert band music to light jazz, pop and rock after his educational career ended.
While performing throughout Italy as part of a brass ensemble quartet, he performed two concerts in Florence, and included masses at St. Francis Upper Basilica in Assisi, and St. Mark's Cathedral in Venice in his tour repertoire. His performance with the brass ensemble quartet broke a 20-year absence of brass in the Vatican's St. Peter's Basilica.
Alex recognizes Chuck Mangione, Maynard Ferguson, Chicago, and Earth Wind, and Fire as some of his musical influences.
---
Pat Eply
Trumpet
Trumpeter, Pat Epley, has joined August's horn section, and brings years of big band experience with him.
Always having played trumpet, Pat began taking lessons at age 10 from various and varied teachers in the area and beyond. Notable mentors include a former member of the famed Woody Herman Orchestra, a Lyric Opera orchestra member, and a Northern Illinois University jazz band alumnus, giving him a well-rounded musical experience in various genre'.
Although August may be his first venture into the world of R&B and "popular" music, Pat is no stranger to live performance and the studio, having begun performing during his academic career with his Elk Grove (IL) high school band, as well as the bands at Illinois State University.
Post college performing venues include numerous big bands in the western Chicago suburbs.
An early "claim to fame" is his performance with the stage band accompanying the comic legend, Bob Hope, during his last performing tour. Pat has also played on recording sessions with the 'Limited-Edition Big Band', and currently donates his time with the jazz bands of Waubonsie Valley High School in Aurora, IL. He credits trumpet giants, Dizzy Gillespie, Maynard Ferguson, and Wynton Marsalis, musical genius Stevie Wonder, the Blues Brothers, as well as the big band orchestras of Count Basie, Woody Herman and Stan Kenton as his musical influences.
---
Glen West
Tenor Sax
August's tenor saxophonist, Glen West, has a busy history. He began his musical journey at age 8 at the piano and with the alto sax. Continuing his performance and musical education, he studied and performed with Millikin University's Jazz Lab Band 1 under the direction of Roger Schueler in Decatur, IL.
His post-college musical career includes a large variety of bands and orchestras. Glen's performed with jazz fusion bands, Wild Pitch and Braille Dog.
His jazz influences, (Cannonball Adderly, Michael Brecker, Bob Mintzer, and Bob Berg, to name a few) have led him to the saxophone chairs with big bands, The Geneva Jazz Ensemble and an original music big band, the Matt Erion Dodecaband. He also performs with, and has performed with, the Nite Hawks Quintet, various jazz trios, and an improvised trio, Gojo.
For 25 years, Glen worked as a recording studio engineer and occasional session artist, and has varied experience in recording acts from heavy metal to big band jazz. His recording resume' includes working with a long list of of first call session players. Glen also continues his occasional, on-call recording-session work.